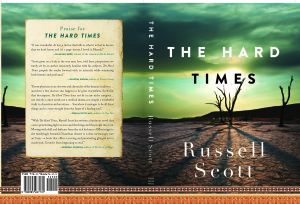 The Hard Times is a novel that is, first and foremost, about how men love. It begins in Mississippi. Ray Moffett is an ER doc, and Ray is facing an abyss. When his best friend and former partner comes into the Emergency Department dead, six weeks after his retirement party, Ray finds himself thrown into a search for some semblance of meaning in his own life. His conclusions are not encouraging.
A white coat is all he has left, everything else, fallen away. His marriage, gone, he'd left his wife, Lisa, for Anne, a young nurse he was having an affair with. His children were gone. Grown, with lives of their own and no time for a father determined to play the fool. Anne, was gone too. When he'd told her he loved her and asked her to leave her husband she'd quit her job and moved to another state. His whole life has come down to work. Work, punctuated only by the occasional round of golf. And that was all he could see standing between him and his own trip to the grave.
African Hunting guide, Fritz Dietrich, shows Ray a door back to the adventures he'd dreamed about as a boy. Unfortunately, Fritz isn't exactly what he seems. His past includes murder, theft, and running guns across international borders. Fritz is out of prison only because his older brother, Manfred is the head of security for Namibia's national mining consortium, and, Manfred has problems of his own. He needs to find a way to hide two hundred million dollars worth of illegal diamonds out of Zimbabwe from United Nations' inspectors and he's just been diagnosed with lung cancer.
Ray finds himself hunting desert Oryx in the Namib with Fritz, both men trapped. For Fritz to help his brother he must kill Ray and use his papers to smuggle the illegal diamonds into Europe. For Ray to get home alive, he's going to have to kill Fritz and then, somehow find his way out of the most hostile desert on the face of the earth.